A plunger will normally handle simple toilet clogs. Another method of cleaning a water closet trap or toilet is the use of an auger with an adjustable, crank-type handle. Known to plumbers as a "snake," the spring-steel coil is easily worked past the trap and down the pipe. A three foot auger is inexpensive and will quickly drill through most clogs. Use the auger carefully. Careless handling may crack the toilet.
If the rubber-cupped plunger or the auger does not clear the toilet, call your plumber.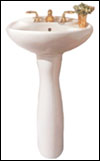 In the event of a stoppage, you should have a "plumber's friend," or plunger – a large rubber suction cup with a wooden handle. Cup it tightly over the drain and plunge it vigorously several times. If it is a double drain sink, make sure you seal the other drain, so water will not splash out into the other bowl or on you. Drain piping can also be cleaned by removing the J-bend on the trap below the fixture. First place adhesive tape around the packing nut or wrap the wrench jaws with cloth to prevent scratching the metal surface. If plastic piping is in place, do not grip the nuts too tightly with the wrench, as they can crack easily.
Place a bucket directly under the pipe to catch any dripping from the open pipe. Pull out the clogging material with a piece of wire or small hand-turned cable. If you take the trap off, have some new gaskets ready to slip into the joints.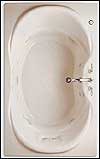 When trying to clear a plugged bathtub drain, place a heavy cloth in the bottom of the bathtub so your shoe soles won't scratch the bath's enameled surface. Hold your hand or rag over the waste and overflow plate, cup the plunger over the drain and plunge it vigorously several times. If it doesn't open easily, the drain may require cabling to open it.
Heavy steel spring coils should not be used to clean traps under lavatories, sinks, or bathtubs. A more flexible type of wire or spring should be used — one which is easy to work through the bend of the trap.